Intercare's Upcoming On Site Accreditation Survey – January 2022
Intercare is a regular participant in Accreditation Canada's assessment / evaluation program and continues to meet and exceed the requirements of Accreditation Canada's accreditation program, including demonstrated excellence in quality improvement and safety.
Accreditation Canada's sector and service based standards help organizations like Intercare assess quality at the point of service delivery and embed a culture of quality, safety and resident and family centred care into all aspects of service delivery. Accreditation Canada's standards are based on five (5) key elements of service excellence: clinical leadership, people, process, information and performance.
With its next regular multi-day,on-site survey visit by Accreditation Canada surveyors scheduled to take place in January 2022, Intercare is once again preparing to undergo its next rigorous assessment and evaluation by Accreditation Canada.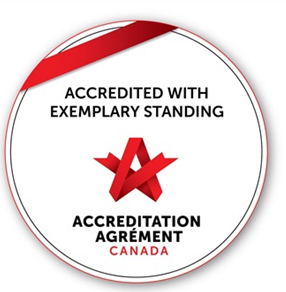 Intercare currently holds an 'Accreditation with Exemplary Standing' award which represents the highest level of performance excellence that is awarded to organizations by Accreditation Canada