Intercare is "Going Green and Staying Green"
In recent years, increasing public attention, awareness and recognition has been afforded to organizations demonstrating a commitment to being environmentally conscious and making every effort to reduce their waste and carbon footprint that contributes to greenhouse gas emissions and global warming.  In this regard, Intercare officially launched a "Go Green" campaign in 2014 reflecting an organization-wide effort to reduce energy and water consumption, waste generation, and increase recycling.
Since that time, strategies and initiatives associated with this campaign have been ongoing and have included posting signage in all resident rooms and common areas reminding staff, residents and visitors to turn off lights and taps, as well as close open windows to keep heat in during the Winter and cooled (air conditioned) air in the Summer.  Motion sensors for automatically turning on and off lights have also been installed in a number of areas, including resident bathrooms and all of Intercare's underground parkades.  Non-toxic, biodegradable cleaning products are now used for all of Intercare's housekeeping services.  Finally, Intercare has implemented an organization-wide recycling program that collects and recycles all metal/aluminum cans, plastics (including water bottles), cardboard (including boxes and packaging, milk and juice cartons), clear glass, light bulbs and paper products.  In alignment with the City of Calgary's expanded recycling programs and related bylaws, Intercare is also in the process of creating an organic recycling program that will recycle all organic waste for implementation in late 2017 or early 2018.
What happens to the materials you recycle?
Keeping the 
"Green Spirit"

Alive and Well: 1st Annual

 "Going Green and Staying Green" 

Month
Calendar of Events – June 2017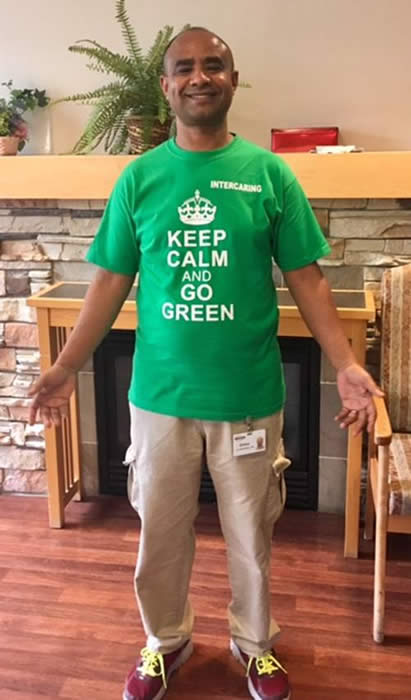 The enduring success of any comprehensive, environmentally focused, "Go Green" program requires that the initiatives associated with same, including organization-wide recycling efforts, energy saving actions, etc. become "second nature" and a part of the day to day choices, behaviours and activities of all our staff, family members and residents.
Towards building an organizational culture where "Green Thinking and Actions" are part and parcel in the daily routines, Intercare is launching in June 2017 our first Annual "Going Green and Staying Green" Month that will include a month long calendar of events.  These events will serve to maintain broad awareness, engagement and participation in Intercare's ongoing efforts to be a "Green Organization" that is committed to minimizing our waste, while maximizing our contribution to a cleaner, more sustainable environment.
Going Green and Staying Green – June 2017 Calendar of Events
Go Green Tips, Facts and Resources – Links worth the click!
Green Calgary – Waste in the Work Place Worksheet
Waste Management Recycling Tips
http://www.albertacanada.com/business/industries/bp-gbpt-government-initiatives.aspx
http://www.infrastructure.alberta.ca/501.htm