Intercare has been awarded the first, fully accredited Long Term Care (LTC) Butterfly Model of Care Home™ in Alberta!
Intercare announced in the Fall of 2016 that it was partnering with Dementia Care Matters™ (DCM™) to introduce the Butterfly Household Model of Care™ as part of Intercare's ongoing commitment to identify and adopt new and innovative ideas and approaches to ensure we are providing the best possible quality of life for people in our care who are living with dementia.
Following a detailed review to determine the most appropriate location within which to conduct our first Butterfly Household Model of Care™ pilot project, the Southwood Care Centre was chosen and the project was launched (with great excitement and anticipation) in February 2017.  Since that time, Intercare's involved Southwood Care Centre and Corporate Staff have worked diligently together with a common goal and focus towards the complete transformation of the Willow Park Home (located within the Southwood Care Centre) from traditional dementia care into a fully recognized Butterfly Household Model of Care.™
The tireless efforts of the involved Southwood Care Centre and Corporate Staff reflected many hours of required education, training and ultimately the application of their learnings towards how they interact with, and care for, the people living with dementia on Willow Park; all based upon the DCM™ premise that "feelings matter most™."   Together, the involved staff facilitated a complete culture change in the Willow Park Home – inclusive of how they think about and perform their work of caring for others.  They created a true "home-like" environment and removed barriers to engagement and effective communication, allowing for the establishment of "family-like" relationships and deep human connections with the people living with dementia.
As a result of their efforts, we are proud to announce that in April 2018, DCM™ advised Intercare that its Southwood Care Centre – Willow Park Home – has achieved full Butterfly Household Model of Care™ accreditation status from DCM™, making it the first long term care (LTC) facility in Alberta, and one of the first two LTC providers in Canada, to achieve this milestone!
Everyone involved in this outstanding achievement are true champions and pioneers of change who have started to pave a new path for other service providers to follow in the care and treatment of persons living with dementia in long term care in Alberta and across Canada!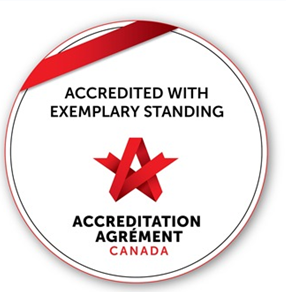 Intercare is regularly evaluated by Accreditation Canada, on a cyclical basis, against a set of national standards of excellence in the provision of quality health care services and commitment to safety.
In February 2017 all Intercare facilities and programs were awarded full Accreditation with 'Exemplary Standing' by Accreditation Canada.