Butterfly Model of Care Homes™ – Update 
It has been one full year since our Willow Park unit at Southwood Care Center was officially accredited by Dementia Care Matters™  as two Butterfly Model of Care Homes™ – Serenity Cottage and Haven House. It has been an amazing journey to where "Feelings Matter Most™" for all our staff and family members. In April, both of the Homes were re-audited and both achieved the highest  possible accolade – Level 1 accreditation status, which is only achieved when accredited Homes exemplify 'exceptional person-centered dementia care'.
We are so proud of the two Homes that have been created for our residents and family members that we are inspired to expand upon what we have started, by implementing another accredited Home on the Fairview unit at Southwood Care Center as well! Apart from the love, companionship and the opportunity for engagement that we have seen within our two existing accredited Homes, we are also seeing weight gain, decreased use of medications, improved mobility and a decrease in infections in our residents in these Homes!
We want to thank the families and loved ones for their continued support as we strive to expand and build upon what we have already learned and continue to work to improve the well being of those we care for.
Backgrounder:
For more than two decades, the Butterfly Model has been gaining international recognition as it provides opportunities for meaningful engagement and purpose to persons with dementia, supporting not just their physical needs, but emotional needs as well. The Butterfly Model is a "feelings-based" approach that focuses on understanding, acknowledging and embracing human feelings of those with dementia.
The Butterfly approach has demonstrated benefits to persons living with dementia by reducing their anxiety, distress and incidents of falls and providing improvement in their overall well being. The model is a proven methodology with outcome measures that have been shown to dramatically improve the overall quality of life for persons with dementia through purposeful human interactions. The Butterfly approach for caring for persons with dementia is to understand their feelings and life history; and to recognize the importance of spending time together 'with' the resident – not just 'doing' things for the resident. Caregivers and support staff are mentored and taught to shift away from 'task-focused' care to 'feeling-based' care.
The Butterfly Model of Care Homes™ project was first launched on Southwood Care Centre's Willow Park Unit in February 2017.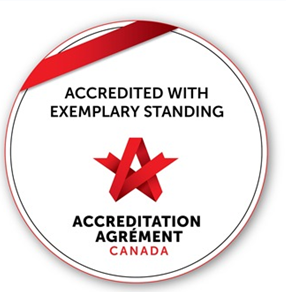 Intercare is regularly evaluated by Accreditation Canada, on a cyclical basis, against a set of national standards of excellence in the provision of quality health care services and commitment to safety. In April 2022 all Intercare facilities and programs were, once again, awarded full Accreditation with 'Exemplary Standing' by Accreditation Canada.